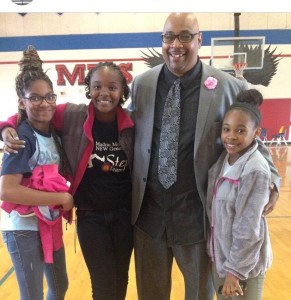 I am so proud of Daryle Smith. In the letter below, he says I inspired him. Well, let me tell you: Daryle Smith inspires me!
When he came to JobSeekers for the very first time, he volunteered to lead the devotional. The person who was scheduled had to cancel at the last minute. He inspired all of us with a rousing devotional.
Later we collaborated to create his résumé and LinkedIn profile. During our meeting he told me about how he'd nearly been killed four times and some other tough experiences when he grew up in the Bronx.
God has prepared this man to minister to young people. Imagine a high school athlete telling Daryle how tough things are at home. Daryle can share how his father left him and how he got tossed out a second-floor window when he was on the losing end of a fight. Then he can share how his Heavenly Father saved him from a life of despair and how His Son has walked by his side since then.
Please click on the PDF and consider making a significant year-end donation to Daryle and His ministry. You may also go straight to his page by clicking here.
Thanks, and may God bless Daryle and all of you reading this.
– Dave
– – – – –
Good afternoon Dave,
I hope I was able to inspire the JS group a few weeks ago when I led the devotional.
It is because of you that I am living my dream job. Since meeting with you I have grown as a man and as a disciple for Christ! I am hoping you prayerfully consider being a part of this missionary assignment as I take this leap of faith.
It's a leap of faith because I don't have a salary. In the nonprofit world, we call this a "support raising" position. You will find my first appeal letter attached; there's a link to my fundraising page. I'm trusting God and counting on others to be inspired to support me as I change lives in the middle and high schools in the area.
I will see you in a few weeks and I am looking forward to helping with devotions anytime you need.
Thanks my friend and brother in Christ,
– Daryle Smith