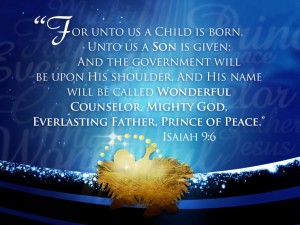 For to us a child is born, to us a son is given, and the government will be on his shoulders. And he will be called Wonderful Counselor, Mighty God, Everlasting Father, Prince of Peace.
– Isaiah 9:6
I realize many of you are experiencing a sense of loss, or loneliness, or hurt, or fear, or frustration, or even desperation on this Christmas Eve.
When the prophet Isaiah wrote the verse above 2700 years ago, he was addressing the concerns of the troubled nation of Israel. Five verses prior he writes: "Nevertheless, there will be no more gloom for those who were in distress." He continues to write about those in the midst of darkness, death, burdens and oppression. Then he offers his message of hope.
Hope is available to all of us through the Wonderful Counselor, Mighty God, Everlasting Father, Prince of Peace. Receive wisdom from the Wonderful Counselor. Tap into the power of the Mighty God. Lie in the arms of the Everlasting Father. Feel the love of the Prince of Peace.
I encourage you to attend a Christmas Eve service this year.
If you don't have a church home, or if you wish to attend a service with a friend, call me on my cell phone: 770-823-2710. I'm a member of Peachtree City United Methodist at 225 Robinson Road. Our services are at 5:00, 7:00 and 9:00. I'm attending the 7:00 service, but I'll meet you at any one of these services 20 minutes before it starts. Just call me on my cell and we'll make arrangements.
May the love of the Holy Child of Bethlehem abide in your heart, and may the Prince of Peace fill you with hope and joy in this Christmas season. Amen.
Copyright © 2016 / Dave O'Farrell / All Rights Reserved